New to the CrossRoads?
We know meeting someone for the first time can be intimidating, and going to a new church for the first time can be nerve-racking. We want to help make your first experience at CrossRoads Church a great one!
CrossRoads Church meets on Sunday mornings at 10 am.
Our address is: 1463 E. US Highway 10, Scottville, MI 49454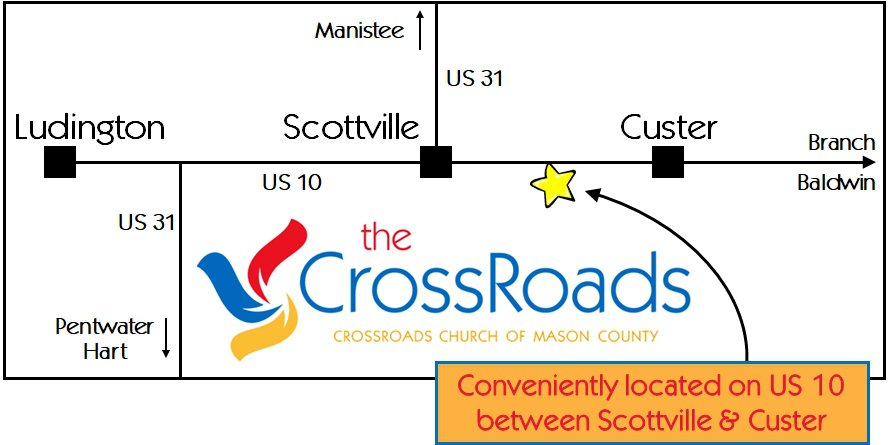 What can I expect?
A friendly and casual service
Here at the CrossRoads, we'll make sure the first face you see when you arrive has a smile on it. And don't worry about what to wear. We're more concerned with meeting your real life needs than with what you wear. So, dress casually and enjoy the relaxed atmosphere of our services. You'll enjoy our live band and modern music, led by Pastor Tom Noteware. And the practical, Bible-based messages by Pastor Rich Chasse will help you deal with real life issues. What you learn on Sunday, you'll be able to use during the week!
A SAFE PLACE FOR LITTLE ONES
Our nursery and preschool ministries provide a safe and loving environment for children. The care providers, who all have submitted to appropriate background checks, give special attention to each child who is entrusted to them during the worship services. The loving care and attention provided helps your children feel that church is a happy place where they are made to feel loved and secure. (Our nursery & preschool ministries are temporarily suspended due to a volunteer shortage due to Covid-19 concerns.)
A FUN PLACE FOR KIDS TO GROW
Every Sunday when your elementary aged kids arrive, they'll begin the service in the auditorium and are dismissed for their activities before the sermon. When they arrive downstairs, they'll be welcomed to a friendly and fun place where they'll learn more about God's love and His plan for their lives. Through interactive teaching, small group discussion, games, crafts, and even the snack time — kids have a great time learning to apply biblical truths to their lives.